Mobile App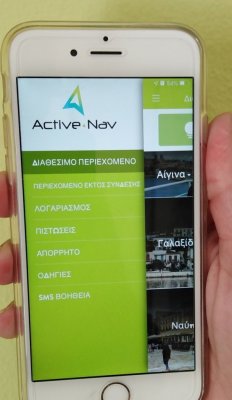 ActiveNav App
It is the application that allows you to access all the information and routes of the trip from your mobile phone.
The steps are as follows:
Download the ActiveNav application on your mobile phone, either from Google Play or from Apple Store
Once the application is installed, click on the 3 lines on the left to see the menu.
As soon as we connect you with the application, you will be able to see the trip you have chosen on the main screen.
Press the right arrow to download all the maps. When loaded the icon on the right changes will turn into yellow .
In case of emergency you can use the "HELP" option from the menu and either send us an SMS with the coordinates that automatically appear on the company's mobile phone or call 112.
The application includes:
Offline navigation (as long as you have completed the download no mobile data are required)
Accurate GPS routes
Maps
Route summary and elevation chart
Alarm and vibration that alerts you in case you go off track
Emergency SMS button with position coordinates
Possibility to record and take photos when you encounter problems on route
Hotel information
Points of interest along the way
ATTENTION: Continuous use of GPS even when offline can drastically reduce battery charge. We recommend that you have a portable charger with you and your mobile phone cable.